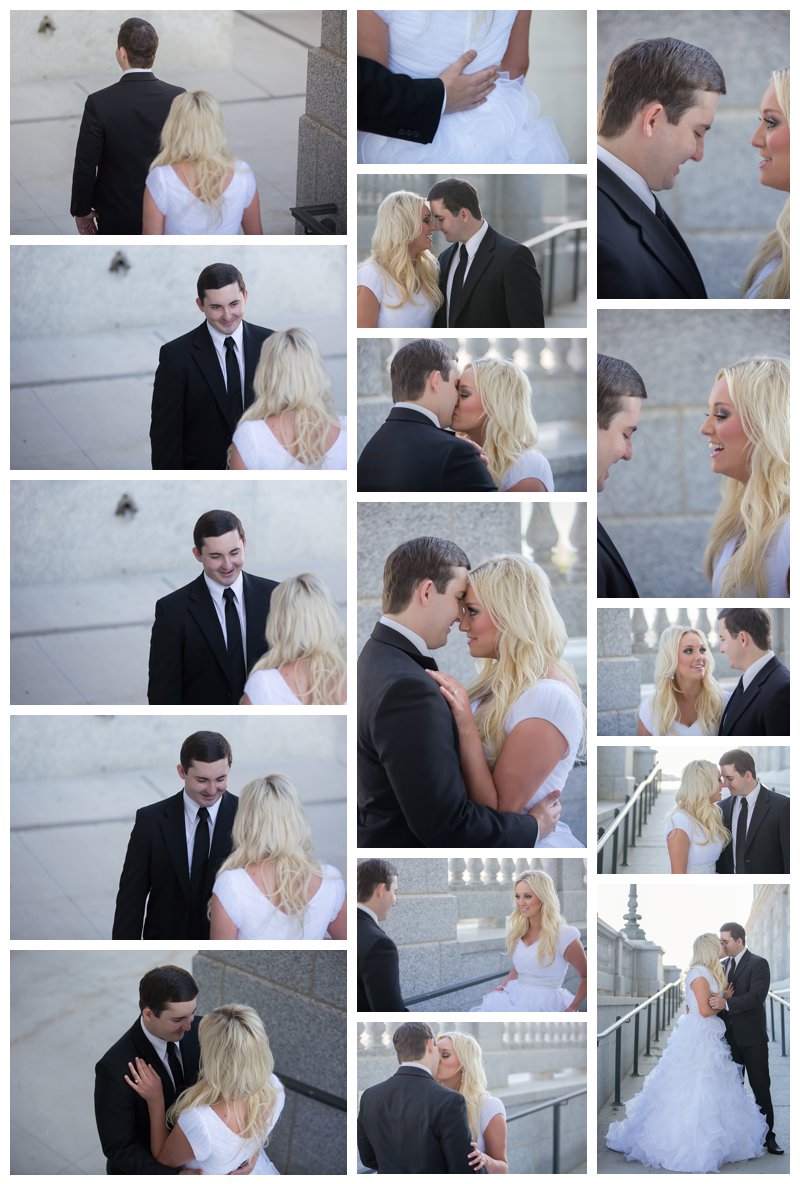 If you have been thinking about whether you would like a first look on your wedding day there are a few things to keep in mind. The timeline of your wedding day is oh so important. A well planned timeline goes a long way in helping you have an enjoyable non-stressed wedding day. One of the things I think helps tremendously is a first look session. Some couples I talk to know exactly what it is and others do not. So lets chat more about it ;)
A first look session is just that. It is the time where you and your fiancé see each other before the ceremony. It is a time where just the two of you can connect before the busyness of the rest of the wedding day. Sometimes you hardly get to talk on the day of your wedding with everything that is going on. It is nice to have a few minutes alone to express your love for each other verbally and more openly to each other instead of in front of a crowd.
Another thing I have noticed is that the couples that do a first look session seem to be less stressed that day. The day of the wedding can bring up feelings of nervousness and anxiety. So much work has been put into this big moment and you want it all to go as smoothly as possible. When you see your best friend in that moment, it seems like every stress just melts away. You have each other to hug and talk with and the stress just seems to disappear.
I would say that probably 80-85% of the couples I have photographed have chosen to have a first look session. Whether it is a couple of hours before the ceremony or a couple of weeks before the ceremony, it is quickly becoming a favorite and one of the most requested sessions I have. I absolutely LOVE this part of the day and I am truly honored to capture these sweet moments. I am able to photograph some amazing moments between the two of you and then we also walk around the venue or a location of your choice to get some gorgeous bride and groom photos as well.
Consider this: we can get 100% of the formal portraits done before the ceremony. That leaves time for you and your guests to enjoy the party afterwords. It also lets you relax knowing that we have already captured some of the most important photos of the day. I can't tell you how many couples have said to me during the reception or after the ceremony that they were SO glad we did the portraits beforehand. It just removes that pressure of getting them done and fitting them into the timeline.
Another benefit is that you can have your ceremony right at sunset. So many couples love planning the ceremony time right at sunset. It is one of the most beautiful times of day and I can't say that I blame them! The only problem is that once the sun goes down, I only have about 10 minutes maximum to use natural light. After that things are very dark and although the portraits can be lit with artificial lights, the look and feel of the photos will greatly differ than typical natural light portraits. So if you are not planning a first look, it is best to plan your wedding at least 2 hours before sunset so that we have time to get the formals, family and bridal party photos that you would like.
I definitely don't require my couples to have a first look session, but I do like to help you understand what it is and if it is for you. If you are not comfortable with the idea of having a first look session, then we won't do one – simple as that. The choice is most certainly up to you and I am always here to answer any questions you may have about it.
Below is just one first look session example. David and Brooke decided to do a first look session about a month before their wedding. They chose to do it at the Utah State Capitol and also do some formals out at the Great Salt Lake. They created an album from these photos for their reception. It gave us plenty of time to have the photos done and bound in an album for everyone to see.
Their first look: (and more from this session coming soon!)